London attraction tickets

To most attractions in London you need to buy admission tickets. One tip is to pre-purchase the tickets already at home so everything is ready when you come to London and you do not have to stand in the long ticket lines. Below you will find tickets to various attractions that are worth visiting during your London holiday.


Tower of London
The world's most famous castle and prison. UNESCO World Heritage
You need at least half a da, here is lots to see. Children under 5 years old have free admission. Family ticket is available.
Tower of London
tickets »

London Eye
Europe's tallest Ferris wheel. You will get a great view of London. Children under 3 are free, do not forget to state the number of children under 3 years when ordering your tickets.
Save up to 15% when you buy your tickets online in advance!
London Eye
tickets »

Hampton Court Palace
The oldest preserved castle from the Tudor era. This is one of the two remaining castles that were owned by Henry VIII. Under 5 years free entrance. Family ticket available.
Hampton Court Palace tickets »
Elvis on Tour
The O2 till 2018-02-01
Tickets »
My name is Prince
The O2 till 2018-01-07
Tickets »



Experience London's highest observation deck!


Up the Shard, London's new landmark and the tallest building in London and Western Europe with its 310 m. Consecrated in 2012. You have 3 different viewpoints at level 68, 69 and 72 (at height of 244 meters). The walls are made of glass so you have a great view of London in 360 degrees. You can compare the height with London's highest observation deck London Eye (135 m) and St Pauls Cathedral (111 m).

Opening hours: 9am to 10pm
Address: Joiner Street, London SE1

Save 20% when you buy tickets online!

Buy tickets to The Shard »
Visit The Shard on both Daytime and Nighttime
With this combi ticket you can visit the Shard on both the day (between 10am-6pm) and return on the night the same day to see London in full light.
Buy combi ticket to The Shard (day + night) »
What do you see from The Shard


Tower Bridge, the Tower of London, HMS Belfast, St. Paul's Cathedral, the London Eye and much more....
To get here:

If you go by underground, get off at the station: London Bridge


Booking info:

When booking tickets for The Shard, you must specify the day you want to visit and what time of day (morning, afternoon or evening). The last tickets for the day are sold until noon. 20.30. The ticket you will receive via email, bring it along with your photo ID. You save £ 5 when you buy your tickets online - be aware that it may be full if you do not pre-book. Please do not bring any large bags. Once inside you can stay as long as you want, though they close kl.22.
Shakespeare's Globe Theatre
The world's largest exhibition dedicated to Shakespeare who lived in London. What did the theater look like in the 1500s? A guided tour is included in the ticket.
Shakespeares Globe Theatre tickets »

Tower Bridge Exhibition
Enter London icon Tower Bridge and discover a fantastic bridge. Via an elevator you will come up 42 m and have a beautiful view out over London. Walk on a glass floor and look down on the traffic below. Children under 5 free.
Tower Bridge
tickets »

St Paul's Cathedral
An absolutely stunning church. Go in and sit down and soak up the atmosphere. And for those who dare ..., take the stairs up into the dome and on the outside.


SAVE UP TO 10% when buying the tickets online compared on site.

St Pauls Cathedral
tickets »
Fly helicopter above London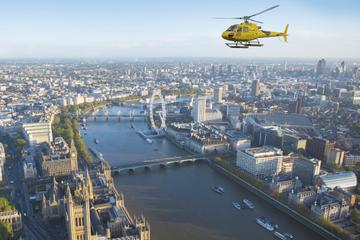 Cool to see London from above!


Choose between flying helicopter over London during 12 min or 18 min. A tour to share with other participants. You can also choose whether you want to fly a private tour for up to 6 people. The pilot will take you over the river Thames and across the most famous sights in London. A once in a lifetime experience, we would say.

Departs from: Battersea Heliport, central London
Map »

Buy helicopter flight here »
Visit The Making of Harry Potter
The making of Harry Potter
Warner Bros Studio
Outside London you find the Warner Bros Studio where they filmed much of all the Harry Potter movies. This is now a museum and you can come here and walk around the sets and famous places such as Platform 9¾, the Great Hall and Diagon Alley and much more. You will also see how they filmed scenes from the films, characters and clothes. For you Harry Potter lovers - this is a must!

OBS! Harry Potter tour is very popular. Buy tickets in good time before your visit. You must purchase your tickets in advance. No entrance tickets are sold on site.

Included in the ticket: round-trip coach transport from London + entrance to The Making of Harry Potter vid Warner Bros. Studio.

Book The making of Harry Potter tickets here »

Address: Studio Tour Drive, Leavesden, Hertfordshire. (approx 30 km northwest of London)
London Bridge Experience & London Tombs
An exciting adventure through time. The story comes to life with actors and special effects. London tombs are for those with good nerves. Meet the dead in London.
London Bridge Experience / London Tombs tickets »

Madame Tussauds
Meeting many of the world's most famous people like Britney Spears, David Beckham, but also historical figures in wax. Children under 4 years free entrance.
Save up to £6 per person when you buy your tickets online!
Madame Tussauds
tickets »

Churchill War Rooms
Visit the underground head quarter where Churchill led England during World War II. Down here, time has stood still. Free audio tour included in the ticket. Children under 15 years free entrance.
Churchill War Rooms
tickets »
| | |
| --- | --- |
| Tickets | Westminster Abbey |
Entry to Westminster Abbey.

Visit this beautiful church on your own. Take your time and try to imagine 1000 years of Westminster Abbey's history. The church stretches back to the year 1066 and there are several celebrities and royals buried here such as Queen Elizabeth I (1603).

The ticket includes entrance to Westminster Abbey.
Buy Westminster Abbey tickets »
Bond in Motion
London Film Museum till 2018-12-23
Tickets »
Death in the ice
National Maritime Museum
till 2018-01-07
Tickets »
| | |
| --- | --- |
| Tickets | Thames Clippers River Roamer |
Travel by boat to The O2 with Thames Clippers
Hop-on / Hop-off boat (1 day pass)

The Thames Clipper boat service, takes you from central London between Millbank Pier to Royal Arsenal Woolwich, including Waterloo Pier, Embankment pier, Tower Pier, Canary Wharf, Greenwich Pier

and The O2. The Catamaran departs every 20th to 30th minute from the various piers. On board they serve food and drinks, they have nice seats and toilets. Take a trip on the Thames combined with a nice view. Hop on and off as much as you like during one day.

Buy hop-on/hop-off boat ticket here »


Walking on top of the the O2 arena

Hike up the famous London O2 arena. 380 m long and 52 m high you walk on the roof. There is also an observation platform where you have a 360 ° view over London. A cool experience!

Time: 1.5 hours
Address: Peninsula Square, London

Buy tickets to Climb the O2 »
To get here:

If you go by underground, take The Jubilee Line to station: North Greenwich (walk approx 150 m)


Booking info:

When you book tickets to Up at the O2 - fill in the date and then choos the time when you want to go. Minimum age 10 years. Minimum length 1.2 meters.
Security: A climbing guide will welcome you and go through safety procedures. You get clothing and safety devices to take on and shoes if necessary. The guide is with throughout the walk.
| | |
| --- | --- |
| Tickets | Visit the inside of Buckingham Palace |
Visit Buckingham Palace
(approx 2.5 hours)
Discover Buckingham Palace with audio-guide for a few hours. See where the Queen of England lives and works. Were she receives visits from all over the world the so called State Rooms. You will also see beautiful furniture, fantastic rooms, china, paintings, beautiful dresses etc.

After the visit relax in the garden café.

Only open to the public for approx 2 months. 22 Jul - 1 Oct 2017.
Buy tickets to Buckingham Palace »
We reserve the right to any changes. Pictures: Visitbritain shop